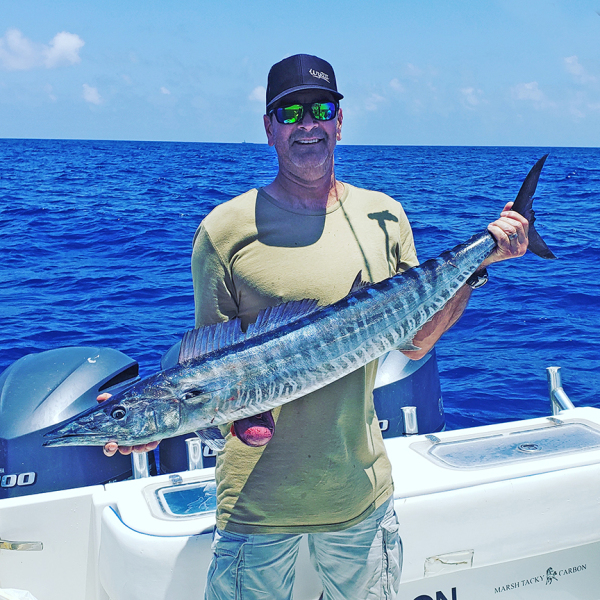 WAHOO are among the fastest, most fierce and prized big game fish in Louisiana.

The fishing trip was well-planned. Donnie Jackson was a real hands-on captain.  He was very attenative to the needs of his clients. He was very helpful to the novice fishermen.  He had plenty of equipment and showed expert knowledge of it, and gulf fishing.

Todd Tuerschmann

Prairieville, Louisiana

Interesting facts about Wahoo:

Fastest species and largest of the mackerals found in North American waters

Has an elongated mouth, razor-sharp teeth, and tiger stripes on skin

Also known as Oahu, Pacific Kingfish, and Ono (Hawaii)

Among the most prized game fish in Louisiana

Average 30-50 pounds, can grow to over 100

Louisiana record - 139 pounds

Best time to catch is in colder season, Jan. - March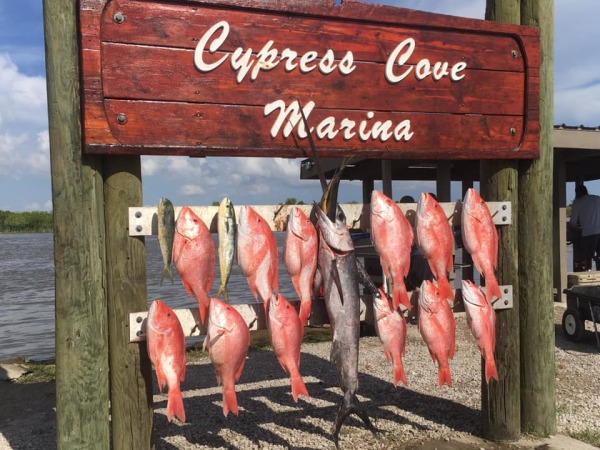 Tails Up Offshore fishing is true professionalism at it's finest.  Outstanding

RED SNAPPER harvest aboard the Sea Cruiser with Captain Donnie.

These guys are the real deal!  If you want a knowledgable, passionate and successful charter, look no further.  Captain Donnie has a true love for the sport and his passion shows in how he charters.  Preparedness is the word.  He and his crew spend countless hour setting up before the charter and researching afterwards.  They track fish and mark hot spots and watch weather patterns as far in advance as possible to give us customers the best chance of having a successful day on the water.  We maxed out on red snapper and moved on to the next spot.  We went out a bit further to hunt swords and ended up taking one home. 

These guys do not play around.  Captain Donnie and Jay were incredibly hands-on the entire time.  They did not stop once, going above and beyond.  If something wasn't working they would move spots or make other necessary rods or bait changes.  They know their stuff and waste no time when something isn't working.  The Sea Cruiser is the cleanest boat I have ever been on.  They were constantly hosing and brushing everything as we went.  We came in and the guys cleaned and bagged our fish in not time.  Tails Up Offshore fishing charters is true professionalism at it's finest. 

Zach Aucoin

New Orleans, Louisiana

Interesting facts about Red Snapper:

Limit 2 per person, 16 inches

Louisiana record - 50 pounds

Average weight 8-12 pounds, common 20 pounds

One of the tastiest fish in the Gulf of Mexico

Found around oil rigs, under wrecks, rocks and reefs